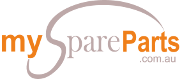 Your Free Spare Parts Online Marketplace. Currently being upgraded, will be back soon!
Custom Search
Mufflers
What does a muffler do for an exhaust system?
Mufflers are usually the last part of an exhaust system just before the tail pipe. Some exhaust systems do not have a separate tail pipe, but the mufflers include a small section of pipe off the back which is called the tail pipe. The job of mufflers is to quiet the noise produced by the engine as well as provide a bit of back pressure to help the engine run properly.
The inside of mufflers is made up of a series of baffles which cause the sound from the engine to bounce around, eventually colliding with other sound waves which effectively cancel out the noise. Generally the noise reduction is significant enough to meet your states noise regulations.
Why is it important to have a muffler as part of an exhaust system?
Mufflers are important in several ways. First, they reduce the amount of noise that is produced from the engine by baffling it. In addition, they also provide a means of ridding the engine of harmful gases which are produced when the engine runs. While the exhaust system as a whole route the gases, the mufflers provide the means for the gases to escape. A catalytic converter also works with mufflers to reduce the noise and gases produced by the engine, holding them inside their honeycomb shaped interiors to protect the occupants of the vehicles as well as reduce emissions released into the atmosphere.
Mufflers come in a variety of shapes and sizes. Some are intended to help a car to make more power and will produce a louder exhaust sound, while others are restrictive thereby reducing power and making the exhaust sound quiet.
How does a muffler work?
Mufflers work by taking the sound into one end that is attached to the exhaust system, routing it through the body and allowing it to escape on the opposite end. Because the sound is trapped for period of time and routed through baffles, it is quieter when it is released on the other end. The baffling is done by the sound waves bouncing around inside the tubes found in the system and eventually bouncing off of each other, thus cancelling the noise produced.
Mufflers also affect the performance of an engine. When mufflers are very restrictive, they reduce the amount of output possible by the engine due to the build up of pressure in the system. They also make the sound very quiet. Other mufflers are intended to improve the performance of the engine by allowing very little pressure build up and thereby creating a louder sound output as well.